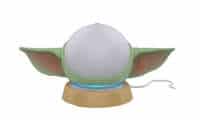 Star-Wars-Ständer für Echo Dot 4: Grogu aus The Mandalorian
Star-Wars-Fans aufgepasst: Amazon liefert ab 10. Juni einen niedlichen Ständer für den Echo Dot 4, der Grogu aus The Mandalorian nachempfunden ist.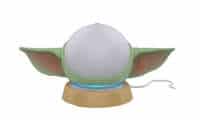 © Amazon & Lucasfilm Ltd.
Schöne Dinge, die die Stimmung heben, können wir in dieser Zeit gut gebrauchen. Da kommt der neue "Made for Amazon"-Ständer für den Echo Dot der 4. Generation gerade recht. Er wird vom renommierten Schutzhüllenhersteller OtterBox gefertigt und wurde von Grogu aus The Mandalorian inspiriert.
Der Echo Dot 4 wird einfach in den stabilen Ständer eingesetzt, der dank rutschfestem Sockel einen sicheren Stand hat. Der Ständer ist ab sofort für 24,95 Euro vorbestellbar, die Auslieferung erfolgt ab 10. Juni.
Alexa ist ein Fan von Star Wars
Die Wartezeit können sich Fans mit Alexa verkürzen, die laut Amazon generell ein großer Fan von Star Wars ist. Folgende vorgeschlagene Sprachbefehle klingen jedenfalls nach einer Menge Spaß:
"Alexa, sprich wie Yoda."
"Alexa, ich bin dein Vater."
"Alexa, möge die Macht mit dir sein."
"Alexa, erzähl mir einen Star Wars Witz."
"Alexa, bist du Star Wars Fan?"
"Alexa, was kann ich dich über Star Wars fragen?"
Echo Dot 4: Testurteil "gut"
Der Star-Wars-Ständer passt nur für den aktuellen Echo Dot 4. Wer überlegt, einen zu kaufen – in unserem Test schnitt der smarte Speaker mit dem Urteil "gut" ab. Der Klang fällt angesichts der kompakten Maße von 100 x 100 x 89 mm befriedigend aus: Die Höhen und Mitten stellt das Kügelchen präsent in den Raum, beim Bass kann es allerdings keine Wunder vollbringen. Im Stereoverbund attestieren die Tester eine "erstaunliche Raumfülle".
Vielseitig nutzbar
Die Sprachsteuerung funktioniert wie von Alexa gewohnt sehr gut. Auf Zuruf kann man Listen, Timer, Kalendereinträge und mehr einrichten, Fragen stellen oder Nachrichten sowie den Wetterbericht etc. abrufen. Mit sogenannten Skills lassen sich etliche Verknüpfungen zu Inhalte-Anbietern und damit Informationsquellen einrichten. Über die bekannte Drop-in-Funktion kann man anderen Echo-Geräten eine Sprachnachricht senden. Einen Zigbee-Hub zur Steuerung komplexerer Smart-Home-Geräte bietet der Echo Dot 4 nicht. Damit wartet der neue Echo 4 auf.
Mikro per Taste abschaltbar
Gut: Das Mikro des Echo Dot 4 lässt sich per Tastendruck abschalten, sodass die Privatsphäre auf Wunsch gewahrt bleibt. Zudem kann man den Verlauf der Konversation jederzeit einsehen und löschen.
Es gibt auch eine Version mit LEDs, die die Uhrzeit, die Außentemperatur, Timer sowie Wecker anzeigen. Bis auf die LED-Anzeige ist dieses Modell technisch identisch.
Quelle: www.connect.de