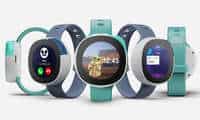 Vodafone Neo: Kinder-Smartwatch mit Disney-Charakteren
Vodafone hat zusammen mit Disney die Kinder-Smartwatch Neo vorgestellt. Der Clou sind animierte Ziffernblätter mit Disney-Charakteren. Auch Telefonieren und Chatten klappt.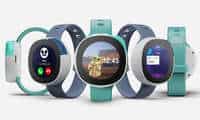 © Vodafone
Spaß am Handgelenk gibt's nicht nur für Erwachsene. Die Smartwatch Neo, die Vodafone in Zusammenarbeit mit Disney entwickelt hat, dürfte beim Nachwuchs extrem gut ankommen.
Animierte Disney-Figuren
Denn das Kind kann über das große Display einen von derzeit sechs Disney-Charakteren auswählen. Die Figuren bleiben nicht statisch, sondern begleiten die Kids mit für sie typischen Bewegungen und Sound-Effekten durch den Tag. Derzeit werden Minnie Mouse, Elsa, Buzz Lightyear, Darth Vader, Iron Man und The Child aus der Disney+-Serie The Mandalorian angeboten, weitere sind in Planung.
Festlegen müssen sich die Kleinen nicht: Die Figuren lassen sich jederzeit direkt an der Uhr durch einfaches Wischen wechseln.
Für den schicken Look von Gehäuse und weichem, ergonomisch angewinkeltem Armband zeichnet das Designstudio fuseproject verantwortlich. Die Technik stammt natürlich von Vodafone.
Das sind die Highlights
über die Smartphone-App können Eltern bis zu 9 Kontakte festlegen, mit denen das Kind per Anruf, Chat und mit Emojis kommunizieren kann
Schnellruf-Funktion: ein Tastendruck genügt, um einen definierten Kontakt anzurufen
GPS-Sensor zeigt Aufenthaltsort
mit nach vorne gerichteter Kamera können Kinder Fotos schießen und ihre Erlebnisse und Entdeckungen teilen
Aktivitäts-Tracker
Kalender, Taschenrechner und Wetter-App
kein Internet-Zugang
Eltern können Nutzungszeit festlegen
Für die Onlineanbindung sorgt eine integrierte Vodafone Smart SIM, die Uhr ist damit unabhängig von einem Smartphone und in über 100 Ländern einsetzbar. Allerdings ist dafür auch ein Tarif nötig.
Die technischen Daten
Höhe: 14,8 mm
Breite: 44,5 mm
Gewicht: 40,6 g
Akku-Stand-by: bis zu 48 Stunden
wasserfest nach IP68: bis zu 10 m Tiefe für 30 Minuten
5-MP-Kamera
integrierte SIM-Karte
Ab Anfang 2021 erhältlich, Preise noch offen
Die Neo ist ab Anfang 2021 erhältlich, im E-Shop von Vodafone kann man sich bereits registrieren, um informiert zu werden. Den Preis für die Uhr sowie Tarife für die Nutzung der E-SIM hat Vodafone noch nicht verraten.
Neo, die Kinder Smartwatch mit Disney Motiven, Anrufen, Chats, Kamera, GPS-Standort und Aktivitäts-Tracker, personalisierbar mit Disney Charakteren, 24 Monate Vodafone Smart SIM ABO inklusive, Mint
Eigenschaften
MIT DISNEY, PIXAR, STAR WARS & MARVEL CHARACTEREN: Kinder wählen Ihren Kumpan der zum Leben erwacht um gemeinsam täglich Abenteuer zu erleben. Tausche kostenlos Charaktere durch aus. Im Laufe der Zeit kommen immer weitere hinzu
ANRUFE & CHATS: Bleib in Verbindung mit direkten Anrufen und Nachrichten auf die Uhr und füge bis zu 9 vertrauenswürdige Kontakte hinzu
BEHALTE DIE KONTROLLE & LEGE BILDSCHIRMZEITEN FEST : Es gibt keinen Internetbrowser und Sie können Bildschirmzeiten über den Ruhemodus festlegen
KAMERA, AKTIVITÄTS-TRACKER & KALENDER: Kinder können mit der 5MP Kamera kreativ werden und ihre Schritte zählen. Sende Erinnerungen und füge dem Kalender auf Neo aus der Smart App Termine hinzu
GPS STANDORT: Verfolge den Standort von Neo in der App. Die integrierte Smart SIM-Karte stellt über das Mobilfunknetz eine Verbindung her. So bleiben Sie auch über große Entfernungen in Verbindung
© Vodafone
Eine Quelle: www.connect.de